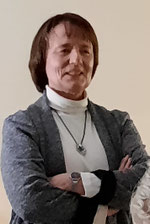 Conductor
Marion Kuchenbecker founded the choir in 1990 and has been leading it since then with much positive energy and spirit. 
She passed the Abitur in the special school for musical education in Wernigerode and was member of the broadcasting choir for young people and of the chamber choir Wernigerode. At the University of Halle she successfully finished her studies in musicology 1984 and received her diploma as choir and orchestra conductor after a further study 1989 at the conservatoire "Franz Liszt" in Weimar.  1987 she participated a master course lead by Helmuth Rilling in cooperation with the orchestra of the Gewandhaus Leipzig.
From 1984 to 1988 Ms. Kuchenbecker was artistic assistant with the pedagogical university Potsdam where she educated students in conducting and lead a students choir and the new founded university choir up to 1989. Afterwards she has begun her work with the Potsdam music school.

There she is responsible for the choir and is conducting two children choirs and the string orchestra Plus. Furthermore Ms. Kuchenbecker is subject teacher for musical education of little children. She is also giving piano lessons.


Highlights of the choir work are the yearly concerts which take place in December and during the summer. Organisation and execution of the concerts lie in her hands. Furthermore some CDs were produced with the choir.

The concerts take place in churches and stages of Potsdam as well as in Germany and other European countries. It is the reward of Marion Kuchenbecker's commitment that partnerships and networks are kept and administered.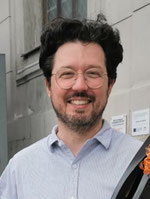 Assistant / Coach
Since 2008 Tobias Scheetz has been supporting and accompanying the choir on the piano preparing the repertoire. He is also accompanying the choir during concerts on the organ.

After his study at the evangelic church music school Goerlitz he was church musician and district cantor up to 2002 at the evangelic church circle Zossen. Mr. Scheetz initiated many concert series and district church music days with international guests and he regularly performed oratories, masses and cantatas with the 1990 founded cantata choir Zossen.

1995 – 1997 he graduated from an add-on study at the oecumenical institute for church music at the University of Arts Berlin. His professors were among others Uwe Gronostay (choir conduction) and Prof. Adele Stolte (singing). He passed 1997 with an A-exam (excellent).  From 1998-1999 he conducted the oecumenical oratory choir Cottbus. Furhtermore he was working as organist with the "Jeunesses Musicales Worldorchestra" and the ensemble "WELTBLECHWorldbrass".

2003 Mr. Scheetz founded "TonART-Musikservice" where he began a very multifaceted work in Germany and abroad  including the production of many CDs as pianist, organist, cembalist and conductor of diverse programs and music projects.
Tobias Scheetz is working on regular base with the new chamber choir Potsdam and church choir of the Erlöserkirche as well as the oratorio choir of the Friedenskirche Potsdam.

Since 2004 he has been teaching organists and conductors of choirs in courses organised by the association of church musicians of the EKBO.

Link: www.tonart-musikservice.de